Mukhyamantri Ladli Behna Yojana 2023: To improve the social and economical conditions of women, the Chief Minister of Madhya Pradesh has launched a new scheme called "Mukhyamantri Ladli Behna Yojana". This scheme was announced on the precious day of Narmada Jayanti.
In this article, we will provide you with all the details of Mukhyamantri Ladli Behna Yojana such as the objective of this scheme, features & benefits, eligibility, how to apply and other necessary information.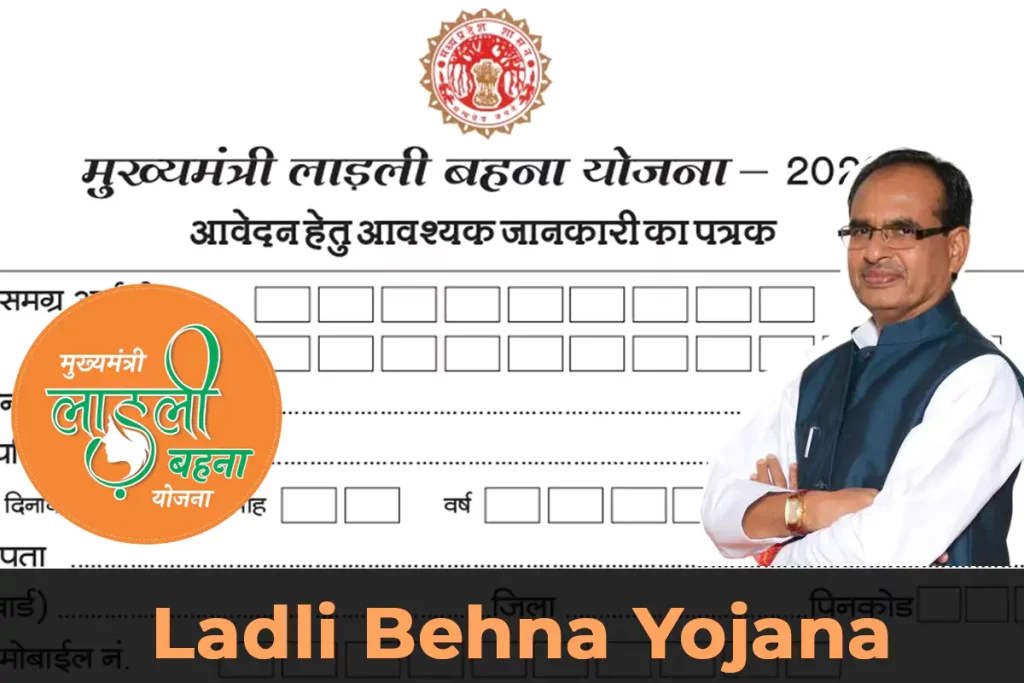 Registration and form fill-up process will begin on 25 March 2023. Under this scheme, the government will give financial support to the women of families who are married, widowed or divorced. You can say that the women of lower-class and middle-class families can seek advantage from this scheme.
For the latest details, you can also check the official website of this scheme.
Ladli Behna Yojana 2023
| | |
| --- | --- |
| Name of the Yojana | Ladli Behna Yojana |
| Started By | By the Government Of Madhya Pradesh |
| Beneficiary | Women of Madhya Pradesh |
| Benefits | Financial support for the women of the state |
| How to apply | Online and Offline Staring from 25th March 2023 |
| Official Website | www.cmladlibahna.mp.gov.in |
Objective of the scheme
The main objective of Mukhyamantri Ladli Behna Yojana is to strengthen the women's class in the MP state, such that they can become independent and self-reliant. This scheme will provide Rs 1000 every month directly to the account of the beneficiaries. The distribution of the funds will begin on the 10th of June. And on every 10th of the month, the money will be distributed to the women.
As per the CM Shri. Shivraj Singh Chouhan, Rs 60,000 crore will be spent within 5 years for the implementation of this program. It is targeted to provide pensions to at least 1 Crore of women of MP state every month. By introducing such schemes the government is trying to increase society levels of its state.
Features of Ladli Behna Yojana
Through Ladli Behna Yojana, the government will provide financial support to the middle class and poor people of its state.
The main motive of this yojana is to make women empower and self-independent.
Rs 1000 will be provided per month to the beneficiary's account.
The estimated amount of Rs 60,000 crores will be spent on this program for the welfare of women in society.
Every woman of the middle and poor classes can take the advantage of this scheme.
SC/ ST, OBCs, and General as well as Backward classes of women can apply for this scheme.
By getting the benefit under this scheme, the social and economic condition of its state will improve.
CM Ladli Behna's Eligibility Criteria
Only the women of the backward and poor class are allowed to take advantage of this scheme.
The citizen must be from Madhya Pradesh state.
The applicant's family's annual income should not exceed 2.5 lakhs per annum.
They should not own more than 5 acres of land/property.
Without concerning any class, creed or caste, this scheme will provide help to every woman of its state.
There is no partition of categories such as SC/ST or others.
How to apply for MP Ladli Behna Yojana?
For applying under Ladli Behna Yojana, the candidates don't have to go anywhere. Because the government itself will organise camps in every village of its state for registration. You have to only carry your necessary documents such as your Aadhar card and Samagra ID and other required documents for registration.
You will be given your receipt of the application by the government officials after successfully filling out your application and proper verification.
NOTE: Keep your receipt safe as it will come in helpful in future.
After completing everything you will be eligible to get your monthly Ladli Behna pension in your bank account directly.